Appearance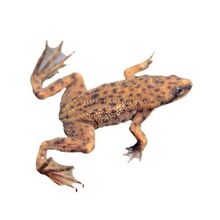 They are a tawny colored small frog with black spots. They have the build of any common frog.
Behaviors
They how and swim around the tank, they can have any tank bottom, gravel or glass. They will eat a variety of things like bloodworms or glass worms, they make good company for the Betta Fish.
Supplies
Large aquarium
land area
water
food
frog
Pet Care
Tank
A basic rule of the thumb is one inch of frog is one gallon of tank.
Feeding
Many insects will do, the food has to be in front of their face to eat it though.
Ad blocker interference detected!
Wikia is a free-to-use site that makes money from advertising. We have a modified experience for viewers using ad blockers

Wikia is not accessible if you've made further modifications. Remove the custom ad blocker rule(s) and the page will load as expected.