Appearance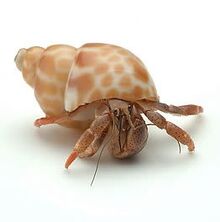 They look like... Well, tiny crabs in a shell. They come in many varieties and their shell color varies.
Behaviors
They scuttle around, most like to burrow. They need to change their shell every so often, you can buy new shells for them at pet stores. They need fresh water available to them at all times and it has to be dechlorinated, otherwise it will slowly die of suffocation because the chlorine clogs up its gills, YES they have gills under their shell.
Supplies
large terrarium
food and water dish
substrate
crab
Trivia
Hermit means alone, however these crabs love company so they are poorly named.
Ad blocker interference detected!
Wikia is a free-to-use site that makes money from advertising. We have a modified experience for viewers using ad blockers

Wikia is not accessible if you've made further modifications. Remove the custom ad blocker rule(s) and the page will load as expected.